3
reasons
to choose our shop

Worlwide delivery
Worlwide delivery

1 year
warranty

11 years
on the market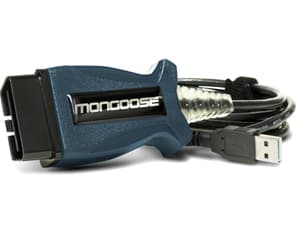 MongoosePro GM 3
Item no.:
23M2000
Contents of delivery
J2534 Toolbox software available for download from the manufacturer's website
Mongoose Pro GM diagnostic interface with USB (blue casing)
+ Add
Status: Pre-order
MongoosePro GM 3 is a multifunctional adapter by DrewTech (USA) for GM vehicles diagnostics. It supports GDS2, TIS2WEB for module reprogramming as well as Tech2WIN for diagnostics.
It is a perfect alternative to the more expensive GM MDI interface.
Mongoose Pro GM 3 functionality:
Tis2Web full support;
100% support of Tis2Web sections - GDS2 (global diagnostic system 2),GDS (global diagnostic system), SPS (service programming station), Tech2Win, etc.;
Offline and online diagnostics;
ECU reprogramming;
Key programming;
TMPS support.
Supported Protocols
HSCAN
MSCAN
J1850PWM
ROSCO
ISO9141/KWP2000
J2534, J2534-1
Gallery (7)
User comments Cackle