3
reasons
to choose our shop

Worlwide delivery
Worlwide delivery

1 year
warranty

11 years
on the market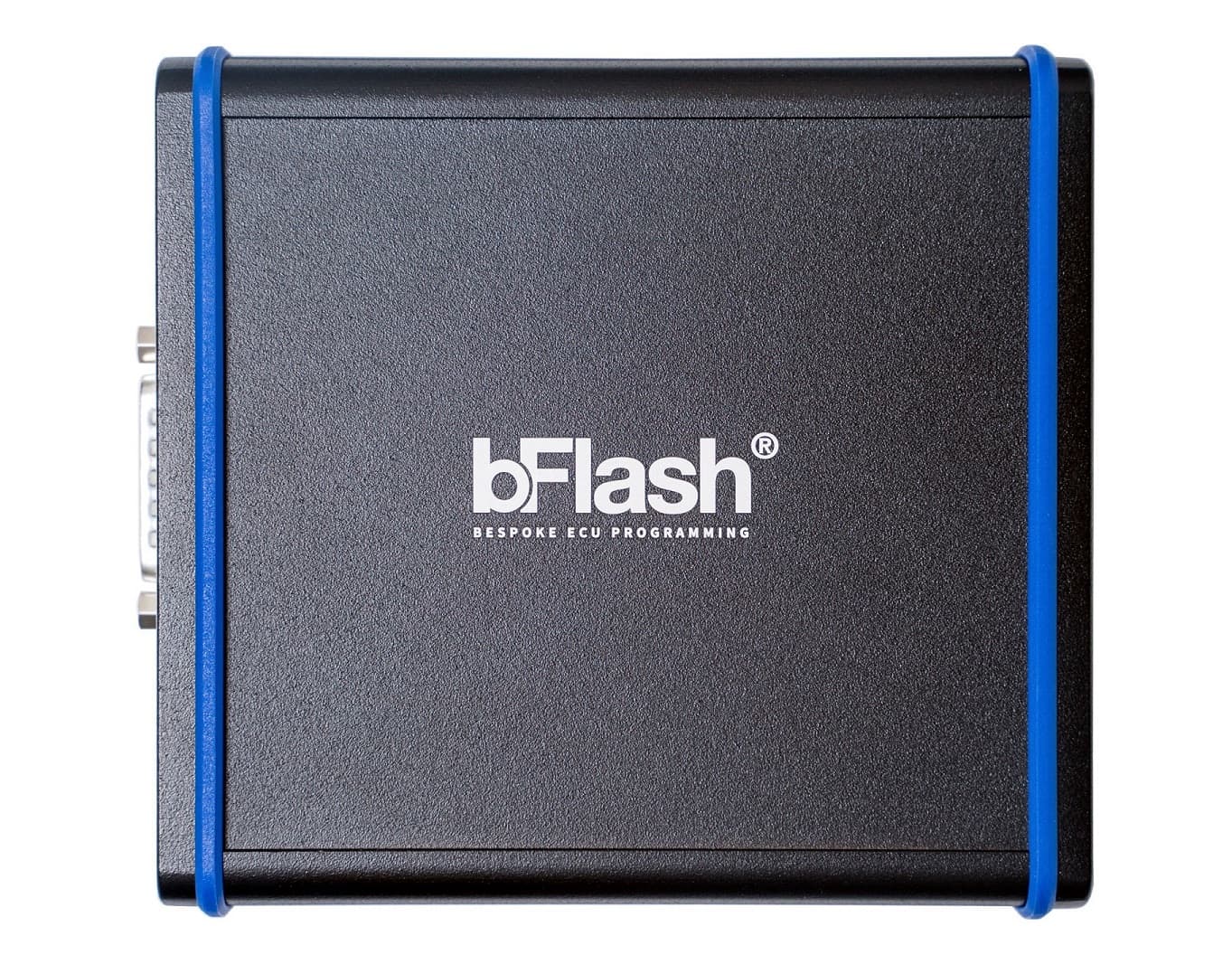 bFlash Slave
Item no.:
11B1000
+ Add
Status: Pre-order
bFlash is a unique revolutionary chip tuning tool for which combines functions of a flasher, diagnostic scanner, data logger, CAN bus analyzer and visualizer for WinOLS.
bFlash was created by BC Consulting, one of the leading suppliers of calibration software solutions for European cars. Since bFlash is more than just an ECU programming tool, it cannot be compared to any traditional flashers that lack many important features for tuning and for everyday use.
The bFlash developers studied OEM tools used by factory calibration engineers, their features and capabilities. On the basis of their specifications, they decided to create their own tool, equally advanced in terms of hardware, but with a simple and intuitive interface and user-friendly reference system.
bFlash advantages:
High speed and safety at the level of OEM tools;
Diagnostics, data logging and emulation for WinOLS;
Easy to use interface;
Built-in help system;
Regular software updates;
5 years warranty.
Hardware
At the heart of our hardware design you'll find the NXP MPC57xx Microcontroller, it's the same MCU used by several OEM programming and/or debugging tools which ensures ultra-fast data exchange with the car's ECU. The remaining hardware components are used for the various programming methods that are supported by bFlash, like OBD CAN, BDM, Boot, DoIP Ethernet, Flexray, Jtag and many more.
Key components
Processor NXP MPC57xx (3 individual cores, 160Mhz);
Flexray: Dual TJA1080 A/B channel 10 mbit/s, with bus cold start ability;
DoIP: DP83848C PHY up to gigabit ethernet with integrated 1:1 magnetics;
CAN bus: Dual TJA1051 able to communicate imultaneously on 2 bus;
JTAG Buffers: logic shifter with logic bus protection and automatic 3.3/5V power supply switch. Up to 25 mhz;
USB: FTDI FT2232H.
Software
bFlash is a highly advanced and extremely reliable ECU programming tool. bFlash can read and write over 400 different ecu types, covering over 6000 different model/engine combinations. The programming is either done by OBD (CAN, K-Line, Ethernet), In Bench mode (connecting directly to the ECU without opening it), BDM (background debugging module), Bootmode, JTAG. bFlash unique feature — the developer mode which allows you to add your own (new) protocols and/or RSA keys for a specific ECU.
bDiag is a complete error code reader that has a native module for almost all car brands. bFlash will first give you the manufacturer specific code with description and where available also the OBD2 code. Thanks to DTC Finder function in the bManager, you can easily deactivate any of the found error codes in the ECU file.
bLog is a complete and fast solution to have access to manufacturer specific real time parameters. The module contains built-in presets to record only the required parameters and also supports factory protocols for most car brands. Thanks to the chart analysis feature in bManager, text information is converted to 2D and 3D graphics that are easy to view and analyze. Log files can be used both for tuning, as well as for diagnostics and error identification.
bSpy is a vehicle network spy tool, allowing you to trace virtually any bus communication in the car. It can be used for troubleshooting, diagnostics and repair but a more practical example of it's use would be the capability to trace and save the communication and files that the OEM diagnostic tool is sending to the car during a software update at the dealership.
bTrace or live ECU emulation (by OBD) is one of the numerous innovations that bFlash has to offer. 2 years were needed for the development of this feature. And although this feature will most likely only be used by a few pro-tuners who develop tuningfiles from scratch, it is guaranteed that this feature will cut your development time in half, it's just a joy to work with. Thanks to EVC, who provided a direct link between the bFlash and their Winols software, you can use the bTrace directly from your Winols.
bManager is a powerful online software tool that helps you manage, encrypt/decrypt, visualize or modify the files read with bFlash.
bCloud is an encrypted cloud storage available to all bFlash users. It allows you to save the read files from the ECU directly from bFlash to your personal cloud, for example if you wish to put a car back stock many years later, you can just download the file again from your cloud. You can also use the bCloud as a tuningfile database to store your tuningfiles (or the tuningfiles for your slave dealers) and program them directly from the cloud, to the car. All files stored in one place with a direct connection to your bFlash device is very practical and saves a lot of time. Customers having their own server can configure a cloud on their own server for file saving. There is also a direct link between the bCloud and the bManager, so that read files can get processed immediately and automatically if you wish so.
Master / Slave concept
All the slave and master hardware is identical. To decode the software from the tools, the Master tuner can purchase a software plugin (bMaster). There are also multi-master, semi-slave and brand-specific slave options where one slave can have multiple masters (if all the masters agree, for example, a VAG specialist who only sells VAG files to his slaves could allow his slaves to purchase Mercedes or BMW files from another master). It is convenient to have a few masters when, for example, one master is unavailable (due to an accident, illness or holiday), you can easily switch your slave to another master for a specific time.
Automatic checksums and CVN
All checksums are calculated automatically by bFlash before programming, you should not calculate the checksum yourself. Depending on the ECU type, bFlash might also correct the CVN (Calibration Verification Number) , the Flash Counter and/or Flash Date&Time so the programming leaves no trace. Please consult the «Help guide» in the bFlash software for a specific car model to see if the CVN or Flash Counter are fixed or not.
Subscription
bFlash comes with an annual subscription. This guarantees you will be getting regular updates with the newest protocols. The bFlash developers chose a subscription system based on experience that showed that any tool available without subscription was lagging behind in new developments as soon as sales of new interfaces stopped. In addition, subscriptions are used to maintain the network infrastructure required for virtual reading functions, as well as the bCloud and the bManager.
Gallery (12)
User comments Cackle