3
reasons
to choose our shop

Worlwide delivery
Worlwide delivery

1 year
warranty

11 years
on the market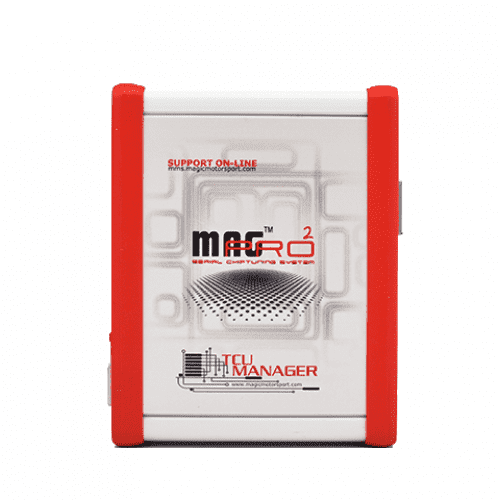 MAGPro2 TCU Manager Slave Kit
Item no.:
Contents of delivery
TCU Manager interface SLAVE
Connection Cable: OBD male to RJ45
Connection Cable: USB 2.0 AM-BM BLK 1.8m
MAGPro2 suitcase
12 months free updates and Helpdesk access
Basic equipment
MAGPro2 TCU Manager Slave Kit —
0
$
+ Add
Status: Off-sale
The TCU MANAGER is a tool designed to reprogram and clone the most state of the art automatic gearboxes. It is essential for professional mechatronics as well as for amateurs. The tool is also suitable for racing use: ECU remapping also requires TCU remapping in order to supply correctly balanced power.
The TCU MANAGER is able to fully satisfy the needs of any type of customer, providing full clonation of the data from the original source to the used TCU, providing cheap and eco-friendly services! The most common gearbox connectors (DSG) are purchasable separately from our website, with the usual quality guaranteed only by MAGICMOTORSPORT.
You are guaranteed access to updates, utilities such as our ORI file databases, manuals that allow you to work in total security and video tutorials. Last but not least, every user has access to our Helpdesk with Technical Support available by chat, phone, Ticket system or remote support !
User comments Cackle