3
reasons
to choose our shop

Worlwide delivery
Worlwide delivery

1 year
warranty

11 years
on the market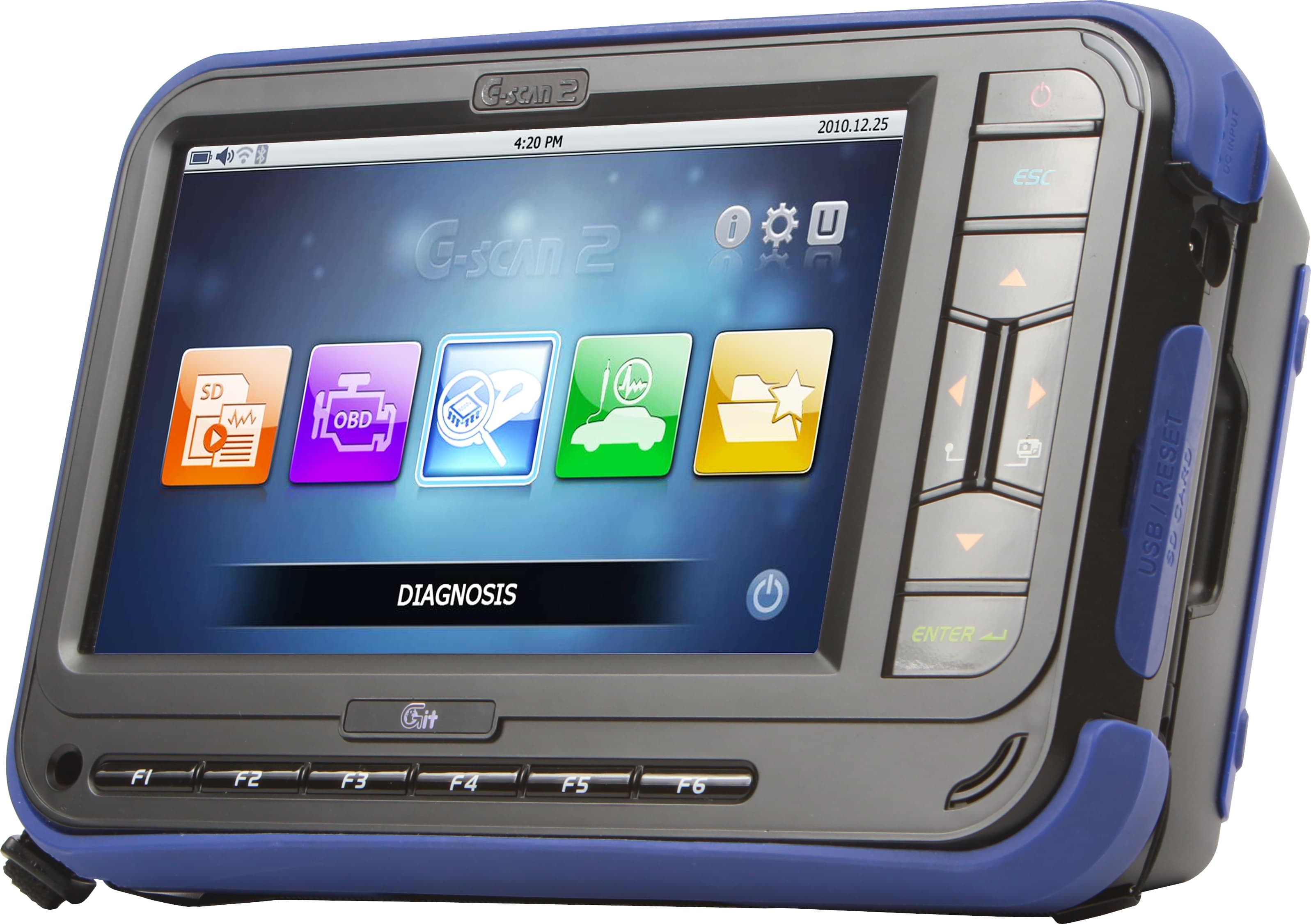 G-Scan 2 Lite
Item no.:
21G1000
Contents of delivery
G-scan Base Unit
DLC Main Cable
SD Card containing the software
Self Test Cable
LCD Cleaner
SD Card Reader
G-scan User Manual
+ Add
Status: Off-sale
The multifunctional hardware and software complex G-scan is equipped with a 4-channel oscilloscope, multimeter and signal simulator. The scanner speed has been optimized, the volume of RAM and external SD memory has been increased by 2 times — up to 256 MB and 4 GB respectively. The size of the scanner touchscreen is 25% larger and is 7″. The advantage of the scanner is the high level of software adaptability for cars manufactured in Japan, including vehicles for the domestic market. For Huyndai and KIA vehicles it provides full-featured fault diagnostics and service functions at the dealer level. The scanner covers a wide range of vehicles: European, Japanese and Asian.
Functionality
Identification of ECUs and display of vehicle data;
Support of OBDII and EOBD diagnostic protocols and modes;
Reading and decrypting DTCs;
Resetting DTCs;
Display of the test results in the digital and graphic form;
Customization (encoding, training);
Activation, control of the vehicle actuators;
Immobilizer programming - key encoding (Hyundai, Kia), reading/erasing error codes, displaying data flow;
Resetting service intervals — oil change indicators, mileage, service intervals;
Automatic scanning of all electronic systems: ENG, ENG-2, ATA, BM/GM, EA, CCS, TCS, ISC, ESCM, IFI/ERE, ELR, EDS, ABS/ETS/ASR, AIRBAG/ETR (SRS), A/T, BAS, ADS, ASD, SPS, 4WD, RB, RST, A/C, IMMO, EPS, ECS, AHLS, AAC, FWDS FFH, KCS;
High-impact housing in a rubber-coated case;
Warranty service for 1 year.
Specifications of the main scanner unit
Screen: 7″ TFT LCD color touch screen with 1024×600 resolution;
Interface Connectors: — USB — 1 pc. — mini-USB (class 1.1) — 2 pcs;
Power supply voltage: 7-35 V DC from the built-in battery, or diagnostic connector, car cigarette lighter or 220 V network;
SD card: 4 GB SD card (included);
Battery: Built-in Li-ion 2100 mAh battery (1 cell);
Dimensions: 230×146×72 mm;
Weight: 1.3 kg.
Oscilloscope specofications
Sampling speed of the oscilloscope in the 2-channel mode:
100 us
200 us
500 us
1 ms
2 ms
5 ms
10 ms
20 ms
50 ms
100 ms
200 ms
500 ms
1s
2 s
5 s
Sampling speed of the oscilloscope in the 4 channel mode:
200 us
400 us
1 ms
2 ms
4 ms
10 ms
20 ms
40 ms
100 ms
200 ms
400 ms
1s
2 s
4 s
Multimeter Specifications
DC voltage: -/+ 400mV; -/+ 4V; -/+ 40V; -/+ 400V; Auto Mode support
Resistance: 1ohm - 10MΩ; Auto Mode Support;
Frequency: 1 Hz -10 kHz;
Pulse ratio: 0,1 % - 99,9%;
Pulse width: 10 us - 1000 ms.
Signal Simulator specifications
Supported Cars
Korea:
Hyundai/Kia (dealer functions)
GM/Daewoo/Chevrolet
SsangYong
Proton
Perodua
Naza
Japan:
Toyota/Lexus
Nissan/Infinity
Honda/Acura
Mitsubishi
Subaru
Mazda
Isuzu
Suzuki
Daihatsu
Support of right-hand drive cars of the Japanese domestic market.
Europe:
VW/Audi/Seat/Skoda
Mercedes
BMW/Mini
Volvo
Renault
Peugeot
Citroen
Ford EUR
Opel
LADA
Trucks and buses:
Isuzu Truck
Hino Trucks
FUSO
Nissan Truck (UD)
Hyundai/Kia
India:
China:
Lifan America:
Ford-USA (new models only)
Dodge
JEEP
Chrysler
User comments Cackle