3
reasons
to choose our shop

Worlwide delivery
Worlwide delivery

1 year
warranty

11 years
on the market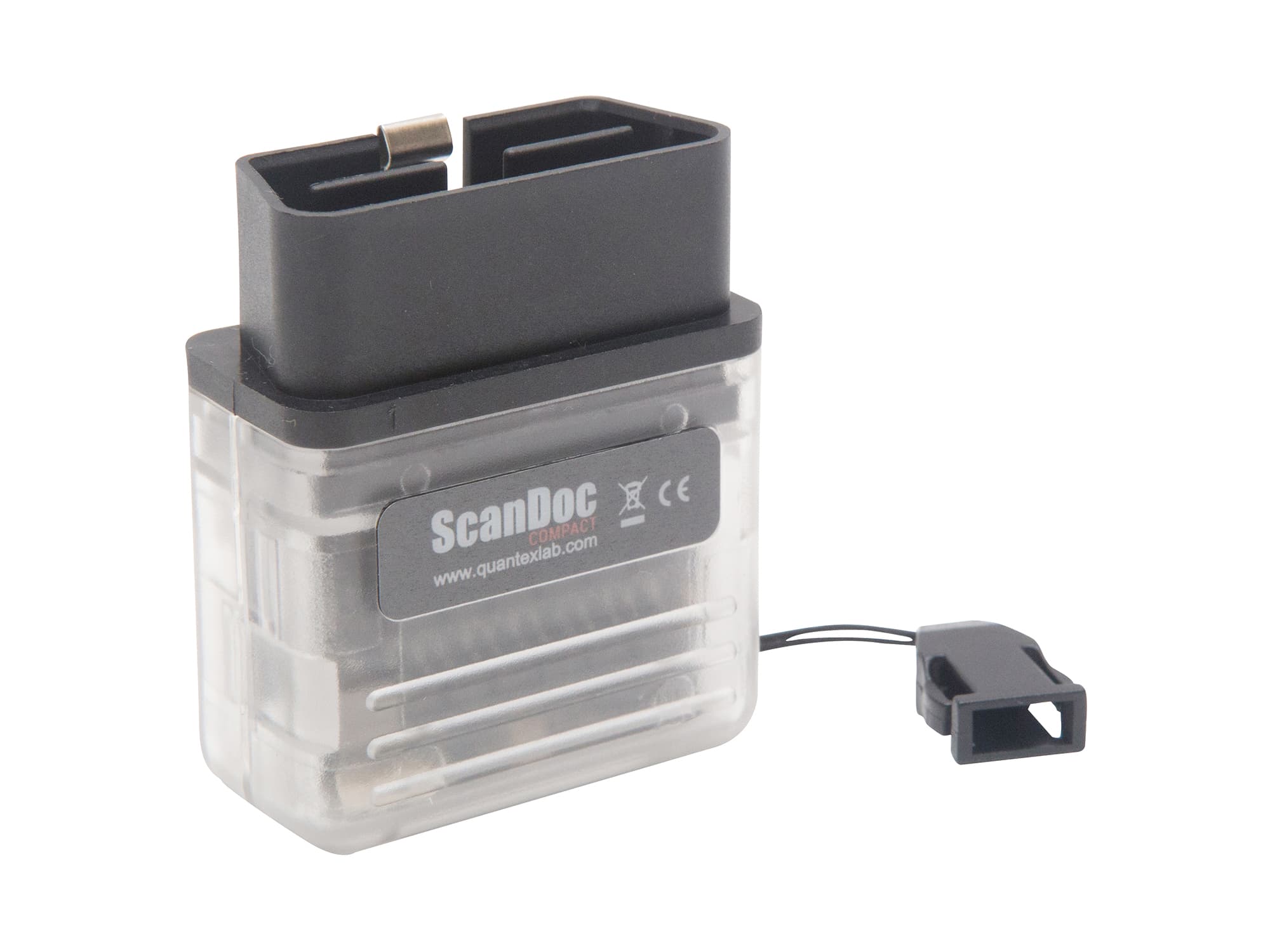 ScanDoc Compact
Item no.:
21S1000
Contents of delivery
Hardware
Case
USB drive containing the software for Russian-made vehicles
+ Add
Status: In stock
Multi-brand car scanner ScanDoc Compact is designed to work with the electronic systems of the car.
The scanner can read diagnostic trouble codes, display the current data, control the actuators, make adjustments and perform the configuration of the car. ScanDoc supports a large number of diagnostic protocols of different manufacturers.
The device has a traditional design: a PC with software and an adapter which supports all standard protocols including high-speed CAN protocol and OBD-II/EOBD. The Scandoc adapter is of a high technical level and has good overvoltage and incorrect connection protection. TCP/IP network protocol (over Wi-Fi) is used to connect to a PC; the protocol provides a good communication speed and stable connection. It allows having stable work under heavy interference at the distance of 30-50 meters.
ScanDoc Compact software is thoroughly elaborated and is close to the dealer level in its functionality. The program is constantly improved, every update includes certain diagnostics problem solutions: the interface has a good feedback system which allows users to inform the developers about their problems who in their turn include those solutions in new updates. This approach provides quick functionality update, and as a result full diagnostics of certain vehicles important for a user (e.g. vehicle fleet of an enterprise or models specific for a certain region) becomes possible, even if initially the functionality in the given sphere was not sufficient.
The software is updated via Internet. The ScanDoc Compact has a wide range of configuration capabilities: you can choose those modules you need to work with specific vehicles.
The ScanDoc interface is very convenient, vehicle identification is simple, system and engine type selection is easy and graphic. Some vehicles, like Ford and Mazda, do not require engine type selection, the scanner will automatically read its ID and defines what systems are installed in this vehicle.
You can get information about the diagnostic connector location and its pinout if you need.
Besides the standard modes of reading and code clearing, Data Stream the ScanDoc has a rather convenient mode of 'alternative graphics'. This mode allows to view on the screen a diagnosed system in a simplified way, e.g. an engine and a set of vitally important sensors with their statuses (active/inactive, if there is an error, etc.), and other data on each sensor. You can switch to the graphic way of parameter display with one mouse click.
Functionality (varies for different brands):
Reading and error codes decoding;
Errors reset;
Display of current data both in digital and graphical formats;
Final controlling drives actuation;
Systems identifiation (controlling units);
Immobilizer reading and programming.
Available Interfaces
Russian;
English;
German;
Greek.
Hardware specifiation
CPU: 32bit, 72 MHz;
RAM: 32 МB;
Protocols hardware support: KL-Line, 2xCAN, VPW, PWM, J1708;
Protocols software support: KW71, KW81, KW82, KW1284, DS2, ISO8, ISO14230, ISO9141, ISO15765, J1979, J1850, TP2.0, J1939;
Integrated electronic commutation: 13 channels;
Connection with РС: WI-FI IEEE 802.11b 100 mV (54 Mb/s);
Power supply: 9-30 V DC.
Service and operation conditions
Operating temperature: 0-50°C;
Maximum relative humidity: 80% (up to 30°С) and 50% (at 40°C and higher);
Any liquids inside the device are inadmissible.
General characteristics
Scanner dimensions: 24×44×93 mm;
Weight: 67 gram.
Software (available now)
AUDI/VW/SEAT/SKODA
ACURA / HONDA
CHERY
DAEWOO
DAIHATSU
FAW
FORD / LINCOLN / MAZDA
GEELY / LIFAN / BRILLIANCE / WWILING
GWM / CHANGHE / FDQD / SHUANGHUAN
HAFEI / XINKAI / ZX / TATA / BYD
HYUNDAI
KIA
MITSUBISHI
NISSAN / INFINITI
OPEL / HOLDEN / VAUXHALL
RENAULT / DACIA
SUBARU
SUZUKI
TAGAZ
TOYOTA / LEXUS / SCION
SSANG-YONG
BMW
CITROEN
FIAT
MERCEDES/SMART
PEUGEOT
Gallery (11)
User comments Cackle