3
reasons
to choose our shop

Worlwide delivery
Worlwide delivery

1 year
warranty

11 years
on the market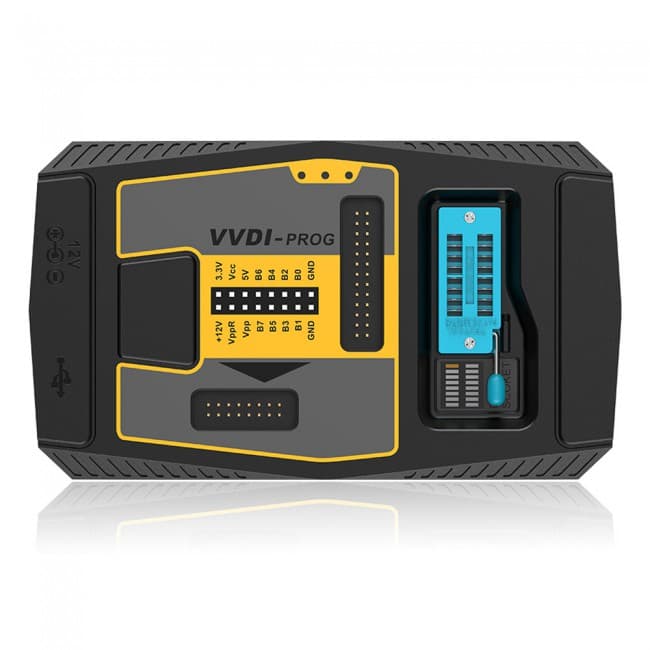 VVDI Prog ECU Programmer
Item no.:
41V4000
Contents of delivery
Programmer Multiplexer
Square USB cable
SOP16 test socket
16pin converter (Support SOP/SOT/SSOP)
MCU reflash cable
ECU reflash cable
MC9S12 reflash cable (Used to program MC9S12 series chip)
Basic equipment
VVDI Prog ECU Programmer —
473
$
+ Add
Status: In stock
VVDI Prog Programmer supports Reading and Writing for lots of chips, including MC9S08 series, MC68HC(9)12 series, MC9S12 series, V850 series, H8X series, R8C series, PCF79XX series and most EEPROM chips etc.
Supports chip data verification, checks blank function
Supports data file compare function
Supports R&W BMW N20, N55 ECU(show ISN directly)
Stable R&W MC9S12XE series chips(5M48H/1N35H/2M53J/3M25J etc.)
Supports renewing PCF79XX remotes and currently supports BMW E/F series (please note: PCF79XX adapter is optional)
Provides lots of connection diagrams (Please contact us via email to get them: [email protected])
Reserves ports for future updates
1. Built-in update software: Make VVDIProg firmware update timely.
2. High-speed USB communication interface: Make software automatically connect.
3. Smart operation mode: possible causes of error will be listed
4. Reserve ports: For future update.
5. Self-test function: Check if the machine works well or not.
6. Power supply: Through a USB cable, the software will automatically prompt if the external USB power supply is needed
7. Recently added Bosch ECU Adapter functions, Support Reading ISN from BMW ECU N20 N55 B38 B48
but need to buy VVDI Prog Bosch ECU Adapter.
8. Multi-language: English, French, Italian, Spanish, Arabic, Cezch, Polish, Portuguese, Russian, Turkish, Chinese
9. Get free BMW ISN read function and NEC, MPC, Infineon etc. chip continuous update service
Please note:
VVDIProg Using Tips:
1. DO NOT click firmware upgrade in VVDI Prog software, its firmware is always 2.0 version, there is no need to update it, or it will get a communication server error.
2. Please do wiring 100% same as in the connection diagram in VVDIProg software, DO NOT lengthen the connection lines with other parts — it will fail to do the reading.
VVDI-Prog Supported Type List:
Memory:
ATMEL, CATALYST, EXEL, FAIRCHILD, INTEL, MICROCHIP, MITSUBISHI, ST, TOSHIBA, XICOR
MCU:
RENESAS V850, RENESAS H8X, RENESAS R8C, MOTOROLA MC68HC(9)08, MOTOROLA MC68HC(9)12, MOTOROLA MC9S08, MOTOROLA MC9S12, NXP PCF79XX, ST ST10F, INFINEON XC2XXX, ATMEL, ATMEGA XXXX, INFINEON XC164CS, MICROCHIP PIC18F
VVDIProg Supported Model List:
ECU List:
BMW E Series, BMW F Series, BOMBARDIER, CHANGAN, DELPHI, MAGNETI, MARELLI, RENAULT, OTHER
IMMOBILIZER List:
AUDI, BENZ, BMW, BUICK, CHEVROLET, STEC, CHRYSLER, FIAT, FORD, GREAT WALL, INFINITI, LANDROVER, JAGUAR, NISSAN, OPEL, PORSCHE, RENAULT, SAIC MOTOR, VOLKSWAGEN, ZHONGHUA.
DASHBOARD List:
BUICK, CHANGAN, CHERY, CHEVROLET, DONGFENG, FAW, FORD, GEELY, GREAT WALL, HAFEI, TOYOTA, HANTENG, HAIMA, HONDA, JAC, JAGUAR, JINBEI, JMC, LUXGEN, NISSAN, SGMW, VOLVO, ZHONGHUA, ZOTYE
REMOTE List:
BMW E Series, BMW F Series
For the full VVDI Prog Supported Chip List please contact us via email
Gallery (5)
User comments Cackle