3
reasons
to choose our shop

Worlwide delivery
Worlwide delivery

1 year
warranty

11 years
on the market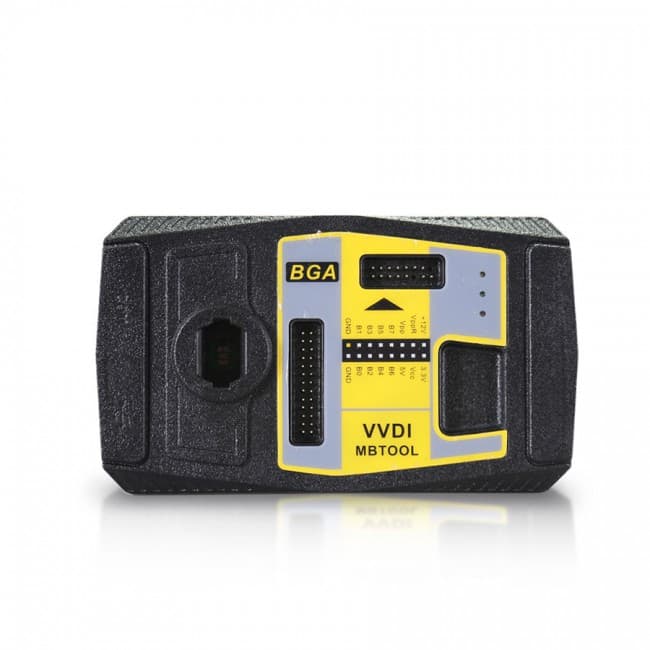 VVDI MB BGA Tool Benz Key Programmer + one year unlimited tokens
Item no.:
41V2000
Contents of delivery
VVDI-MBTOOL Device
IR adaptor
USB cable
NEC adapter 1
NEC adapter 2
NEC adapter base PCB
K-Line in OBD line
OBD line
Basic equipment
VVDI MB BGA Tool Benz Key Programmer + one year unlimited tokens —
1 272
$
+ Add
Status: In stock
Original Xhorse VVDI MB BGA Tool Benz Key Programmer
Please note:
The one-year unlimited tokens start from the day when the factory made it.
VVDI MB Highlights:
1. Latest software version: V5.1.0, Requires firmware V5.0.1
2. Multi-language: English, Polish, Spanish, Chinese
3. It Supports Password Calculation Function. VVDI MB needs 1 token (2 tokens for all key lost). Other functions are free to use.
4. If you offer the serial number of Condor or Dolphin, your VVDI MB will have 1 free token per day.
5. If you have CONDOR XC-002, Condor Mini or Condor Mini Plus, your VVDI MB can have another 1 free token every day. If you have both Condor XC-mini/XC002 or Dolphin, your VVDI MB can have 2 free tokens per day.
6. Supports all keys lost: W166, W197, W212, W218, W246, W206, W210, w204, w207, W166, W203, W463, W639, W246, W212, W212 (old), some W216, W164 2009-, W164, W221, W215, W220, W230, W164 / W251 04–08 and some others.
7. Support FBS4 disable key function (Other functions -> FBS4 disable key)- Support W166 W205 W213 W218 W222 W246 type
Xhorse VVDI MB Tool Function:
1. Key Reading and Writing
Key identification, IR reading & writing BE key
Red V51, V57 version's key password by NEC adapter
Read activate blank BGA (OCF4) key, key current Hash (repair)
Renew, write into the used NEC KEY
Write smart key etc.
2. Password calculation
OBD reading and calculating all (FBS3) protocol EIS password
Supporting BGA Key, NEC Key, V51, V57 version password calculation
Supporting all key lost W164, W216, W166, W211, W212, W246, W212(OLD), W204, W207 ECT
Online calculation key password.
3. ESL TOOLS
OBD (K-line) read data, renew ESL, replace ESL (no need to renew EIS)
Checking ESL damage, repairing W204 ESL
4. Gateway Reading/Writing
Supporting OBD repair KM: W204, W207, W211, W251, W154, W212, W221, W216, W166, W172, W232, W205 etc.
Supports reading & writing gateway EEPROM and Flash: W211, W164, W204, W207, W212, W221, W216 etc.
5. EIS tools
Reading & writing EIS via OBD or IR, OBD auto-detect, access to W164, W209, W211 without gateway
Reading the password of the old Motorola EIS (K-Line)
Renewing EIS, replacing EIS, enabling key, disabling key, personalizing W204 ESL
Test EIS status, working key etc.
6. Key File Preparing
Files of V11, V41, V51 version of the key are generated online
Motorola EIS EEPROM files are supported with high efficiency, 100% successful generation
7. Program or Renew ECU / Gearbox / ISM
Features include: renewal support, writing VIN, personalisation operation for module ECU, Gearbox, ISM etc.
8. Unlock ELV function
9. Renew other control modules function
10. Reading/Writing CGW (ZGW), KM Repair
Supports repair of the following KM: W204, W207, W212, W251, W164, W211, W221, W216, W166, Wl72, W232 and W205 etc.
Supports the reading/writing of gateway EEPROM and FLASH: W211/W164, W204/W207/W212, W221 and W216 etc.
Model Support IR/OBD:
W164,W1642009+
A166,W197, W212,W218,A246
A169, W209, W211
W172,W204,A207
W203
W204, W207, W212onlybydump
W204, W207 via infrared ALL KEYS LOST option
W209onlybydump
W210
W215, W220
W230
W216
W221
W906
Keys version supported:
v03, v06, v08
v05, v07, v09
v59, v61
What keys/remotes are supported?
705 Moto1997–2000
NEC 2001–2005
NEC 2006–2010
BGA 2011+
VVDI MB Tokens:
For W166, W212, W246, W212 (old), W204, W207, W216, W164 2009-

All key loss requires two tokens for successful calculation

For W164, W164 2009-, W166, 197, 212, 218, 246, W169, 209, 211, W172, 204, 207, 212 (old), W216, W221, W639 2009-

For adding a key, one token per every calculation.
3 ways to get VVDI MB tokens:
Buy as many tokens as you want
Buy unlimited tokens for 1-year use
Free: exchange bonus points for tokens, if you happen to own an Xhorse key tool like:
Condor XC Mini
Condor XC Mini Plus
Condor Dolphin
Xhorse will give you one token free every day.
Tokens are needed when calculating a Key Password (Internet connection required).
All keys lost: 2 tokens required
Add a new key with a spare key: 1 token required
All other online calculations are free and do not require the use of a token.
VVDIMB Update Log:
Latest version V5.1.0(2021-04-06)
2021-04-06
Require firmware V5.0.1
BENZ V5.1.0
1. Bugfix for write K-Line EIS
2. Bugfix for write ECU(272) VIN, only for test purpose
3. Add Setting option(Menu->File->Setting), support deactivate voltage limit function, Read password via IR
4. Bugfix
Software Update
This function requires internet support
Use «Menu -> Update Online -> Software Update» to obtain VVDI-MB TOOL latest software version, the software version requires firmware version etc.
Press Download Link will download the latest software
If there's no display for the software version, shutdown your firewall and antivirus programs, try again.

Update firmware steps:
1) Connect VVDI — MB TOOL to PC with the USB cable;
2) Choose VVDI — MB TOOL firmware version from Firmware List;
3) Press button Update Online, wait for the progress end;
4) If failed to get the file list or get something like «communicate with server error!» while update your device, close antivirus and firewall programs, try again. Change your internet provider once failed again;
5) DON'T shut down your PC or disconnect the USB cable while updating the device.
How to Combine VVDI Mercedes Benz and VVDI2 in Xhorse App?
Run upgrade kit, device connect to PC by USB cable, read device,
Select «Binding», the customer will get a QR code automatically,
Login Xhorse APP, enter «Account» — «Combine device»,
Then scan the QR code to combine to account.
Gallery (7)
Unlimited Tokens for VVDI MB Password Calculation (One Year)
Item no.:
VVDI MB Tool Tokens
Password calculation can get key password through EIS and working key (online)
CAN protocol EIS all support password calculation
Support BGA keys and other NEC keys
Support calculate the password for NEC v51, v57 keys. No soldering, safe method.
Data acquisition time depends on the key version. It needs about 3.5 - 13 minutes
BGA version need about 5 minutes, some versions only need 3.5 minutes
Calculate time in server: 30 seconds – 1 minute
Support type
W164
W164 2009-
W166, 197, 212, 218, 246
W169, 209, 211
W172, 204, 207
W216
W221
W639 2009-
Functions
Mode: OBD and IR adaptor, mode use for communicating with EIS
Chassis: Select chassis number, you can detect it with auto-detect in EIS Tools
Data Acquisition:
Press "Data Acquisition", it will continue with the following steps automatically
1) Insert working key to ignition, waiting 15 seconds
2) Insert working key to device IR reader, verify key and car
3) Data acquisition
4) Insert working key to ignition, waiting 30 seconds
5) Insert working key to device IR reader, wait end...
6) Save acquisition data
Upload Data: Upload saved acquisition data to the server for calculating passwords.
Attention: Once the password is calculated successfully for one SSID, the server will not accept the calculation of the acquisition data with the same SSID in 2 hours. After 2 hours, acquisition data with the same SSID upload to the server will start with a new task.
Query result: Query server calculation result. The password will fill in the key password area automatically after success calculation. Use "Copy" copy password to clipboard
Auto reflash: Program will auto re-flash server result until there's no task for this device. You can start data acquisition once more while auto reflash starting
Stop acquisition after success: If you are run data acquisition while auto reflash running, the program will stop the acquisition progress when find the correct password
About query result status
Query result support query calculation results in 24 hours, others don't support Query result will display Time, SSID, Status, Filename (name when uploading to the server)
Status has the following types:
1) Queuing: number X requireS about Y minutes, which means your task needs Y minutes
2) Processing: requires 1 minute, means your task need 1 minute to finish
3) Password: xxxxxxxxxxxxxxxx (Free), means success find the password, "Free" show this task is calculated for free or this task already success calculated before
4) Discard: Once you success calculate the password, in 2 hours, the upload acquisition data with same SSID will discard
5) Already upload: means the server already have this file in queuing
6) Pay for password calculation before upload: means your device doesn't require authorisation for calculation. Contact your dealer and pay for password calculation
7) Failed: means this task failed to get the password, you can run data acquisition again. Failed task is always free
Hide -
Show +
User comments Cackle