3
reasons
to choose our shop

Worlwide delivery
Worlwide delivery

1 year
warranty

11 years
on the market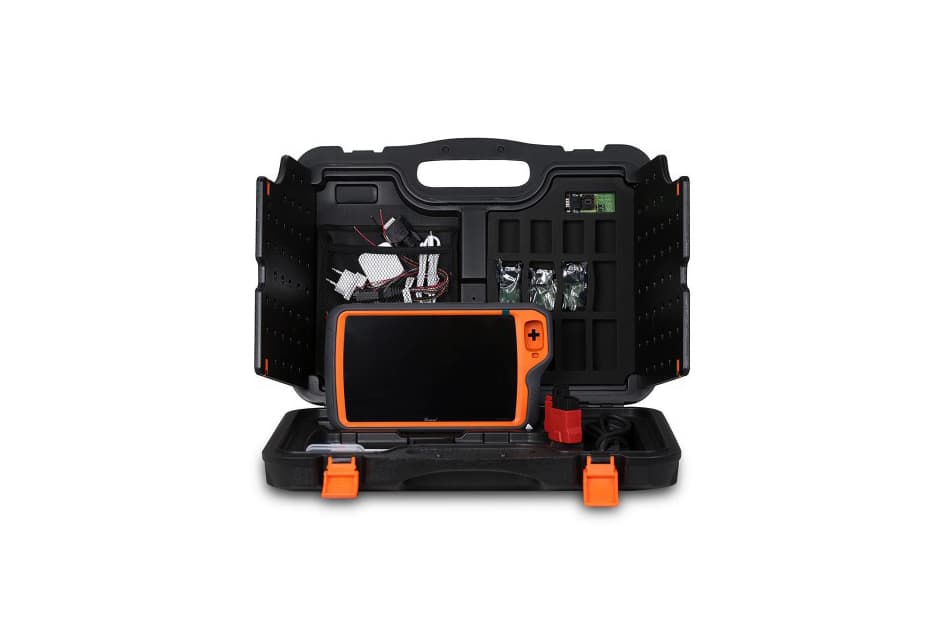 VVDI Key Tool Plus Pad
Item no.:
51V1000
Contents of delivery
Key Tool Plus
User Manual
Certification and warranty card
Charger
USB3.0 TYPE-C Cable
OBD_DB25 Cable
OBD_KIA_10 Connector
OBD_KIA_20 Connector
OBD_HONDA_3 Connector
Remote_PS2 Programming Cable
Transponder box
Prog_DB15_15 Cable
Prog_EEPROM Adapter
Benz_IR Reader
BENZ_NEC1 Adapter
BENZ_NEC2 Adapter
BENZ_NEC3 Adapter
BENZ_Power Adapter
9s12xE Cable
MCU Cable
Basic equipment
VVDI Key Tool Plus Pad —
2 625
$
+ Add
Status: In stock
VVDI KEY TOOL PLUS provides an all-in-one security solution for locksmiths with no need to take your laptop or mobile phone. It supports IMMO programming for vehicles like BMW, BENZ, AUDI, and VW. Besides, it allows controlling Xhorse key cutting machines.
Parameters:
CPU: 8-core 2GHz
RAM+ROM: 4G+128G
Operation System: Android 9.0
Screen Size: 10.1» HD Anti-glare; Anti-fingerprint. Super 10.1» anti-glare display enables top operation experience.
Rear HD Camera: 13.0MP. The 13MP rear camera is designed to fit in multiple scenarios perfectly.
Battery Capacity: 10000mAh. Long battery life and PD3.0 fast charge help keep you productive throughout your day.
Charging: 30W Super Fast Charge
Bluetooth: 5.0 Bluetooth
WIFI: 2.4G/5G
Xhorse Key Tool Plus Basic Functions
It supports basic functions of a Key Tool, such as remote generating, cloning, transponder detection, and IMMO programming for VW & Audi, BMW, and Mercedes Benz.
Transponder Detection
Transponder Cloning
Transponder Generation
Remote Cloning
Remote Generating
Frequency Detection
Remote Renew
IC/ID Clone
Vehicle Error Light Reset
Key Cutting Machine Control
Built-in OBD matrix switch
Radiofrequency simulator
Integrated Key Identification Coil
Mercedes Benz infrared read-head
Smart Key Simulator
Long-distance IMMO collection
Chip pin detection
More functions to be added in future updates
Please note:
Bosch ECU adapter cannot be used with Key Tool Plus. It is for VVDIProg and VVDI BIMTool.
VVDI MB power adapter fast cable cannot be used with the pad. The Pad uses a Benz power adapter in its package to fast calculate pass.
Benz EIZ/EZS adapter kit can be used with the key tool plus. But require DB9 optional adapter (not release yet) or modification.
VVDI Toyota 8A adapter and VVDI remote renew adapters can be used with a VVDI pad.
IMMO Key Programming Function:
Renault 4A Smart Card/4A Flip key (Kadjar, Koleos etc) OBD Add Key, All Keys Lost, Prepare dealer key Vehicle with 4A chips; No need for reading backup flash; No risk of the car dysfunction occurring
Mercedes Benz FBS3 FBS3 Add key/all keys lost, fast password calculation with a high success rate, time-saving (use Benz non-removal adapter)
BMW OBD add key/all keys lost CAS1 CAS2 CAS3+ CAS4 CAS4+ FEM BDC (service mode)
VAG IMMO2 IMMO3 IMMO3.5 IMMO4 IMMO5 MQB add key, all keys lost
VAG online IMMO4 add key and AKL, A6 Q7(J518) All Keys Lost, MQB add key and AKL, 5 °C add key, fast inexpensive, no risk of the car dead with VVDI remote
Toyota 8A mechanical key OBD Add key and All keys lost (No need to remove immo box for AKL. 8A AKL adapter is required.
Mitsubishi OBD Add key, all keys lost, prepare dealer key Outlander, ASX, Eclipse Cross etc)
Porsche Generate dealer key for new Porsche (-2018), OBD IMMO programming (key tool plus read dump and generate key, OBD immo programming)
Peugeot Citroen DS OBD Read Pin, Add key and All keys lost
Ford (-2018) Smart key programming without PIN code for-2018 models/key programming
Ford 2019— Key programming without reading PFLASH backups for 2019 up Focus, Escort (safe, no risk.)
Jeep Chrysler Dodge 2018 up Reading PIN code and key programming key via OBD
Fiat Viaggio Palio OBD Add key, AKL and prepare dealer key
Buick Chevrolet Cadillac OBD Read PIN Code (ID46 transponder), online get PIN code for some cars with 4D/47 transponders
Hyundai Kia OBD read PIN Code for cars with 46, 47, 8A transponders and program key
Honda 2019 up AKL OBD all keys lost for 10th Generation Accord, Envix, Fit, Inspire
Volvo (-2016) OBD read ISN by OBDII (remote key), require CEM EEPROM dump (remote key), require CEM, KVM EEPROM dump (smart key)
Chinese Cars Support key programming for common Chinese cars and PIN code calculation or OBD read PIN code for some models
KEY TOOL PLUS provides users with functions including key programming, key learning, ECU coding/adaption/replacing, diagnostic function, etc. to best resolve most problems occurring in immo programming for Volkswagen and AUDI cars.

VW & Audi:
3rd / 4th / 5th generation
MQB
MED17/EDC17
KEY TOOL PLUS allows BMW CAS1 CAS2 CAS3 CAS3+ CAS4 CAS4+ OBD key learning, FEM/BDC key programming, File Make Key, ECU ISN reading, ECU and CAS synchronization, etc. Getting work done has never been easier.

BMW IMMO Programming
CAS3/CAS3+
CAS4/CAS4+
FEM/BDC
ECU ISN Reading Function
KEY TOOL PLUS offers users all-rounded and professional security solutions for Mercedes-Benz. The device helps with FBS3 Keyless-go smart key programming, all key lost, adding keys, enabling & disabling keys and 曰S/EZS,ELV, ECU, gearbox, ISM replacing.

Benz IMMO Prorgamming
FBS3 standard keys and FBS3 keyless-go keys
Smart keys, all keys lost, add keys, enable & disable keys
EIS/EZS, ELV, ECU, gearbox, and ISM replacement
Other Car Models Supported
Toyota, Honda, Mazda, Ford, Cadillac, LandRover, Peugeot, Kia, Buick, Chevrolet, Volvo, Mitsubishi, Nissan, Suzuki
KEY TOOL PLUS supports over 20,000 car models worldwide. We can select the car brands and car models on the immo programming interface. On this smart platform, you can easily find the car models you need by brand area, brand name, and A-Z word search.
Transponder & Remote Function:

Transponders
ID46 online calculation
ID48 (96 bit) online calculation
Toyota H(8A) online calculation
Transponder generation and cloning of over 850 car models
Special transponders and special cars and old car models
Remotes
Support remote generation, smart key generation, frequency detection, remote clone for a variety of car models
HCS/fix code clone, non-HCS rolling code clone, fix code editing
PT22XX, LX918, HT6P20, VD5026, AX5326, HT12X fix code editing
Prog Function:
Key Tool Plus is designed with Prog function, which can work as a solder-free programmer, directly reading and writing common modules and chips for plenty of car models. Xhorse is the first to offer this integrated solution.
KEY TOOL PLUS supports reading and writing common modules and chips. It covers «EEPROM and FLASH», «IMMO», «Instrument», «Airbag», and «ECU», etc.
Supported EEPROM and FLASH: ATMEL, Mitsubishi, Winbond, Catalyst, ST, XICOR, Microchip, SEIKO, Xhorse, MXIC, Toshiba

Supported Modules
BMW: CAS3/CAS3+/CAS4/CAS4+/FEM/FRM/BDC
BENZ: EIS/EIZ
LANDROVER: RFA
PORSCHE: BCM
VOLVO: CEM/KVM
BMW/AUDI/VW: ECU AND MORE
HONDA/HYUNDAI/KIA: MB91F dashboard
(Note: To complete certain functions, users need to connect KEY TOOL PLUS to the specific adapters and get the required model prompt on the interface. The function is only effective in the advanced edition.)
WHAT CAN BE DONE BY PROG FUNCTION ON KEY TOOL PLUS
Support EEPROM reading and writing: support reading & writing most types of transponders in the market.
Support BMW immo module programming covering CAS3, CAS3+, CAS4, CAS4+, BDC, FRM, and FEM.
Support Land Rover RFA module reading and immo programming.
Support Porsche BCM programming.
Support read ECU with CAN on AUDI, BMW, and VOLKSWAGEN.
Support Instrument programming on HONDA, KIA, and HYUNDAI.
IMMO DATA TOOL (FILE MAKE KEY)
Supports Jaguar — Land Rover — Porsche — Volvo — Mitsubishi — and others
For some cars, key programming and other settings can't be finished via OBDII. KEY TOOL PLUS gives amazing strength to solve the dilemma by delivering the File Make Key function which can be used to add keys for them. This
very function features generating transponder via reading-related transponder data of the car immo module directly.
[ File make key, to generate a car key via a data file. Users need to use the specific device to read the immo data and generate a boot transponder to directly start the car, no need to match the original car.(Users may need to rewrite the data to the immo box when doing the programming process on some car models.) ]
Maintenance Function
KEY TOOL PLUS supports maintenance light reset, electric parking brake, TPMS, battery matching, throttle program, injector programming, steering angle programming, bitting decode, gearbox programming, headlight programming, etc. More maintenance functions will be released soon.
CONTROL KEY CUTTING MACHINES DEVELOPED BY XHORSE
KEY TOOL PLUS is available to control the key cutting machines(CONDOR, DOLPHIN, and PANDA), to perfectly work as an operation screen. By using KEY TOOL PLUS, completely free your mobile phones.
Cloud Diagnosis Mode-C:
After the Key Tool Plus starts the C mode of cloud diagnosis, it will generate the local C-terminal ID and send C-terminal ID to a customer who provides remote service. Customer use cloud diagnosis B-terminal Xhorse device, after inputting C ID and connect to the Plus pad for remote diagnosis, programming, coding, matching, maintenance and other functions.
Other Special Functions:
Remote renew, Set type of VVDI super chip, VVDI Special TP, Unlock Toyota Smart Key, Detect remote, VVDI remote repair calibration, VVDI smart key clone, VVDI smart key customization, remote charge battery, Honda cycle key renew, 8E remote upgrade/unlock, XM smart key customization, Toyota smart key frequency setting
Gallery (11)
User comments Cackle