3
reasons
to choose our shop

Worlwide delivery
Worlwide delivery

1 year
warranty

11 years
on the market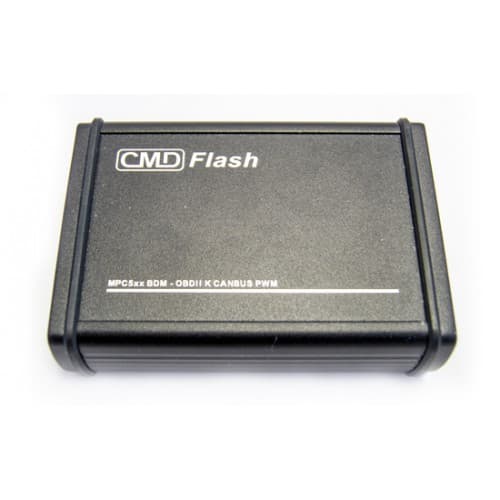 CMD Flash Master + OBD-II
Item no.:
Contents of delivery
Tool and connection cables
OBD-II protocol activation
One year subscription
Basic equipment
CMD Flash Master + OBD-II —
6 071
$
+ Add
Status: In stock
CMD Flash is a popular flasher in Europe which allows to tune a great number of vehicles of various brands. Its characteristic features are a considerable carlist and regular update of supported ECUs.
Functionality
Reading and flashing via the diagnostic connector;
Reading and flashing via BDM, JTAG, BOOT-MODE (BSL Tricore, C167/ST10);
Automatic checksums;
Recovery after errors;
CMD Flash / WinOLS Plug-in for importing / exporting files from/to EVC WinOLS;
Software update via Internet;
On-Line service for digital signature recalculation;
Access to the database of original files.
CMD Flash Slave
It is cheaper to use the Slave version to arrange the work of a few tuners (a network of representatives).
Licensing
CMD Flash is a hardware and software solution which includes:
hardware;
software licenses;
connecting cables and probes.
The tool is purchased together with the necessary licenses and connecting cables. The purchased licenses are provided with free update subscription and technical support during the first year. Later the subscription is to be renewed every year. If the subscription has not been renewed, the tool stops functioning. The subscription can be renewed any time after any pause in usage. In order to get all the updates released since the subscription expired one has to pay for the whole period.
Gallery (6)
User comments Cackle