3
reasons
to choose our shop

Worlwide delivery
Worlwide delivery

1 year
warranty

11 years
on the market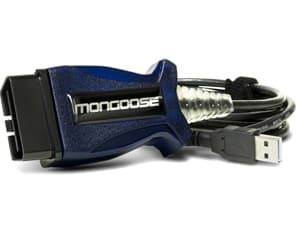 Mongoose-Plus ISO/CAN 3
Item no.:
23M3000
Contents of delivery
J2534 Toolbox software available for download from the manufacturer's website;
Mongoose diagnostic interface with USB (blue casing);
Basic equipment
Mongoose-Plus ISO/CAN 3 —
366
$
+ Add
Status: In stock
Mongoose-Plus ISO/CAN 3 is a multifunctional second generation adapter by DrewTech (USA) designed for working with dealer and third-party software supporting J2534. The adapter allows to work with most of modern European and Japanese vehicles and is ideal for OEM designing and development as well as for use by amateur users. The tool does not support such protocols as J1850, SCI, SW CAN and some others so it cannot be used with some dealer software in full, however, it is significantly cheaper than JLR, Toyota, GM adapters. We strongly recommend checking the compatibility of the adapter with your software before ordering.
We recommend MongoosePro ISO/CAN 3 as an alternative to the popular Openport 2.0 in case of compatibility problems with some software.
Supported Protocols
ISO CAN;
KWP 2000 (ISO 9141, ISO 14230);
J2534, J2534-1.
Features
Mongoose-Plus ISO/CAN 3 stands out from its competitors with its high reliability and efficiency. The full J2534 support allows to use it with compatible third-party software like BitBox, PCM Flash, MMC Flasher, etc. The necessary firmware and the latest J2534 Toolbox software version can be downloaded from the manufacturer's website.
In order to distinguish the original tool from Chinese clones we recommend to pay attention to the following features:
the original tool has its serial number on the sticker;
there is a link to the manufacturer's website on the package;
the adapter has the authentic ATMEL CPU;
the correct operation is guaranteed for Windows 7 and later (Windows 10 is recommended).
We sell only original adapters produced by DrewTech.
Gallery (5)
User comments Cackle