3
reasons
to choose our shop

Worlwide delivery
Worlwide delivery

1 year
warranty

11 years
on the market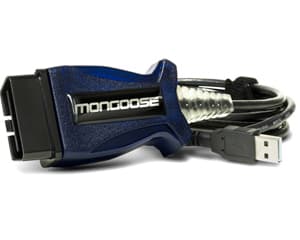 MongoosePro VW
Item no.:
23M6000
Contents of delivery
J2534 Toolbox software available for download from the manufacturer's website (NB! ODIS software is not included);
Mongoose diagnostic interface with USB (dark blue casing).
+ Add
Status: Pre-order
The diagnostic scanner for the whole range of VAG (VW, Audi, Skoda, Seat) passenger vehicles. Mongoose Pro Volkswagen works with ODIS official dealer software and is recommended for use at all VAG dealer stations all over the world.
ODIS full support — not only diagnostics, but programming too!
Mongoose Pro Volkswagen Functionality
ODIS full support
Reading and clearing diagnostic error codes
Live Data
Active tests
New ECUs adaptations
Coding
Actuator tests
Reprogramming
New key binding
etc
Technical Specification
Full support of HSCAN, MSCAN, J1850PWM, ROSCO, and ISO9141/KWP2000 protocols
Compact size
Recommended OS: Windows XP, Vista & 7
J2534 and J2534-1 compatible driver
User comments Cackle