3
reasons
to choose our shop

Worlwide delivery
Worlwide delivery

1 year
warranty

11 years
on the market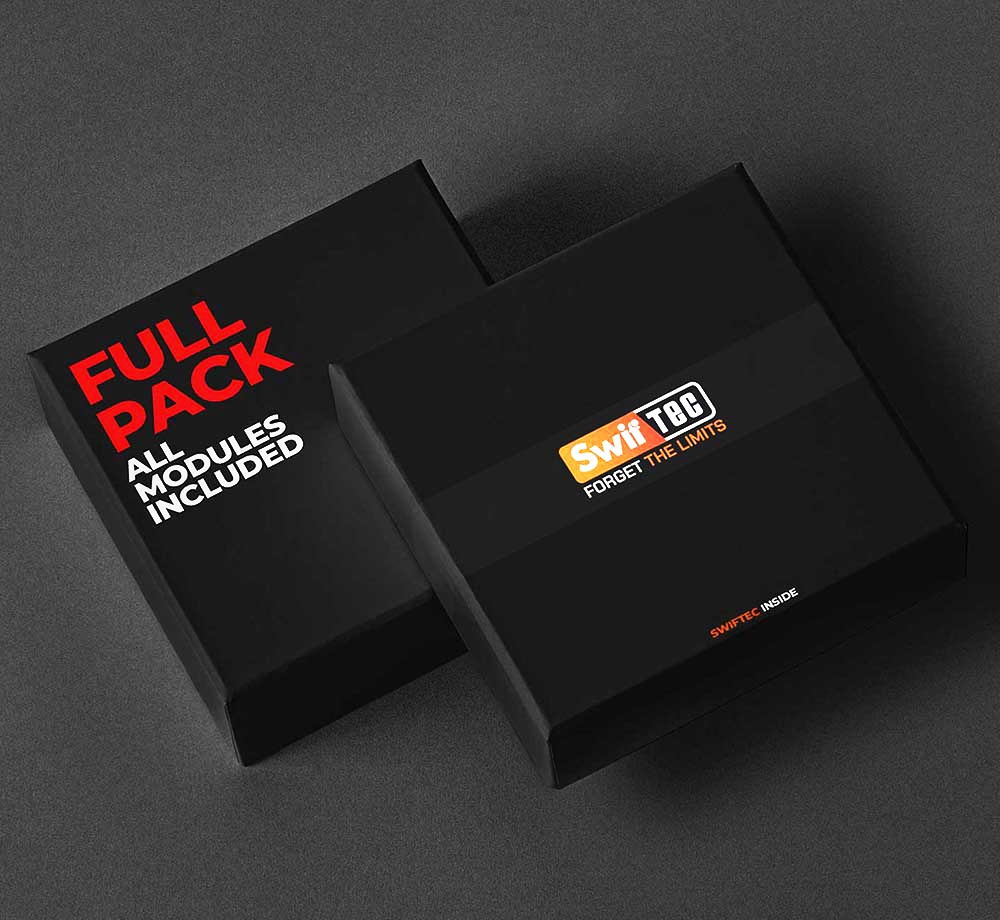 When a harder tune is required by customers, one of the first parts to be changed is the boost pressure sensor and, of course, when you change it, it is needed to change some settings for it in ECU firmware too. This can sometimes be tricky, as some maps are hard to find and require a good level of knowledge.
Swiftec makes that job easy. For that, you only need to choose what sensor you are going to install, and at a click of a button the sensor is now re-calibrated on the ECU for the new correct value.
IMPORTANT - MODULE INCLUDED IN FULL PACK ONLY.
The Boost Sensor Calibration Module only runs on supported firmware.
List of vehicles currently covered by Boost Sensor Calibration Module:
Alfa Romeo
BOSCH EDC16C8
BOSCH EDC17C69
BMW
BOSCH EDC15C4
BOSCH EDC16C31
BOSCH EDC16C35
BOSCH EDC16CP31
SIEMENS MSD8X. N54 ENGINE ONLY.
Cadillac
Dodge
DR
Fiat
BOSCH EDC15C5
BOSCH EDC16C9
BOSCH EDC16C39
Ford
Gonow
Jeep
BOSCH EDC16C31
BOSCH EDC16CP31
BOSCH EDC17_C79
KIA
Mazda
Mercedes
BOSCH EDC16C31
BOSCH EDC16CP31
Nissan
Opel
BOSCH EDC15M
BOSCH EDC16C9 BETA.
BOSCH EDC16C39 BETA.
BOSCH EDC17_C19
PSA (CITROËN/PEUGEOT/DS)
BOSCH EDC16C34. 607 2.2 SENSOR CALIBRATION FOR 1.6hdi PART:9649396580 CHOOSE: BOOSTSENSCAL35.
BOSCH EDC16CP34
BOSCH EDC16CP39
Saab
BOSCH EDC16C9
BOSCH EDC16C39
VAG (VW, AUDI, SKODA, SEAT, CUPRA)
BOSCH EDC15P
BOSCH EDC15V
BOSCH EDC16U1
BOSCH EDC16U31
BOSCH EDC16U34
BOSCH EDC16CP34
BOSCH EDC17_C46
BOSCH EDC17_CP04
BOSCH EDC17_CP14
BOSCH EDC17_CP44
BOSCH EDC17_U01
BOSCH MED9.1
BOSCH MED17.5
BOSCH MED17.5.2
SIEMENS SIMOS 12