3
reasons
to choose our shop

Worlwide delivery
Worlwide delivery

1 year
warranty

11 years
on the market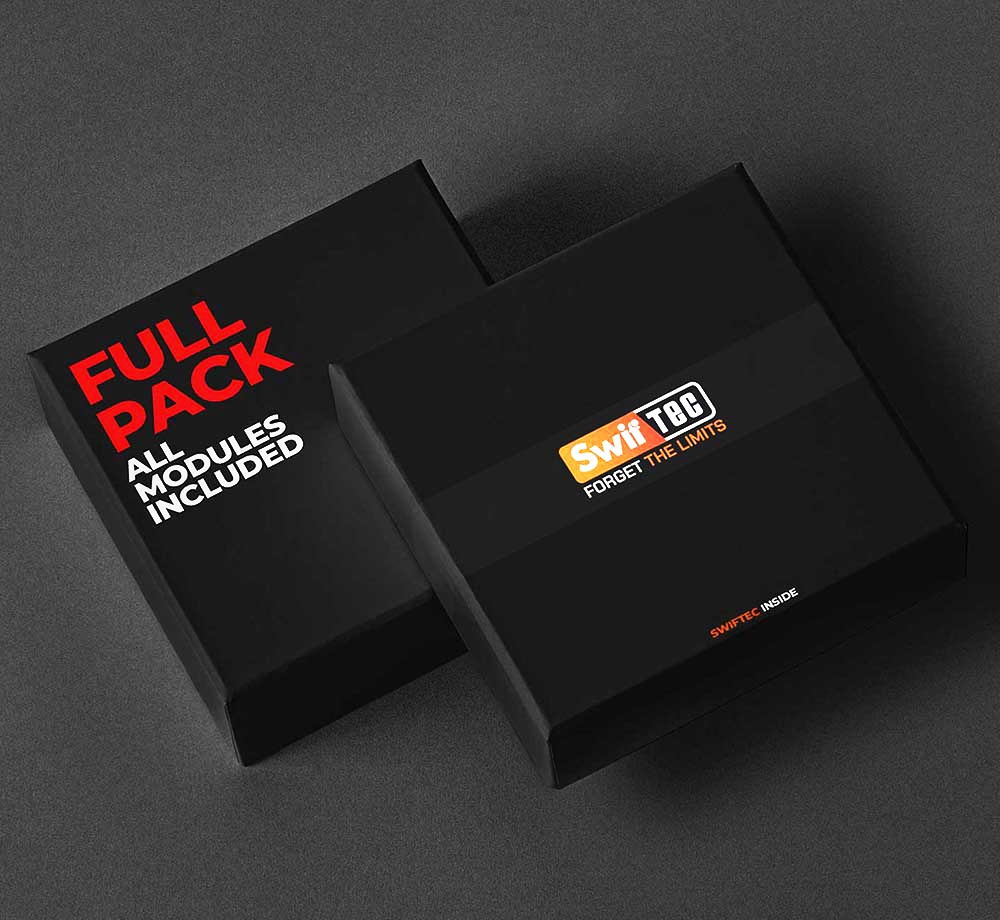 SwifTec Full Pack
Item no.:
Contents of delivery
SwifTec Tool
SwifTec ECU Editing Software
Basic equipment
SwifTec Full Pack —
8 642
$
+ Add
Status: Pre-order
Swiftec Software allows the end user to get the maximum control of modern combustion, electric and hybrid engines, transmissions and battery electronic modules and its subsystems used in vehicles such as cars, trucks, motorbikes, tractors or boats to accomplish different special or daily vehicles aftermarket service tasks!
A huge database of map predefined and can be extended using the unique map recognition module, a simple and user-friendly interface, featuring 2D / HEX and MAP modes, including map manager module. More than 35 automated modules, that transform a job that was previously very hard into a "One Click" operation with addition of thousands of great and unique solutions, making Swiftec Software unbeatable and a must have tool in every workshop!
Swiftec is evolving with the automotive market and we are always looking out for new possibilities to make our costumers' lives easier. We make costumers' expectations a reality!
The tool comes in three options: Full, Standard and Basic.
Basic Pack

Full Pack

Standard Pack

Swiftec basic pack annual fee
(12 months included)
20 automated modules
No support

35+ automated modules
Predefined maps access
Swiftec all checksums
High priority of support
100 credits

Swiftec standard pack annual fee
(12 months included)
20 automated modules
10x swiftec checksums
Predefined maps access
100 credits
Supported languages:
English, French, German, Polish, Portuguese, Russian, Spanish, Turkish
Windows system requirements:
Windows 7 SP1 or Windows 10 64 bit or Windows 11 64 bit (build 22000) with a minimum of 4GB of RAM;
Recommended FULL HD display resolution;
1x USB 2.0 port;
Microsoft Visual C++ 2008 - 2015 x86 redistributable package installed;
Senselock Dongle Driver v3.1.0.0;
Internet connection is required;
Automated modules:
VAS Import Module
TVA Removal Module
TORQUE Monitoring Disable
STARTSTOP Disable Module
Sport Displays Calibration Module
SPEED LIMITER Removal Module
SAP Removal Module
Remote Update Module
Readiness Calibration Module
Popcorn Activation Module
Online Predefined Maps Database
OBD Reading Protection
Maps Recognition Module
Maps Detection Module
MAP Manager Module
MAF Removal Module
LC, AL and NLS for MED9.1 Service
Launch Control Module
Lambda/O2 Removal Module
Kickdown Deactivation Module
IMMO Removal Module
Hot Start Fix Module
GPF/OPF Removal Module
Flaps / Swirl Removal Module
Exhaust Flap Removal Module
EVAP Removal Module
EGR Removal Module
ECU Information Detection Module
DTC Removal Module
DPF Removal Module
Cold Start Noise Reduction Module
Checksums
Checksum Detection Module
Burbles Activation Module
Boost Sensor Calibration Module
BMS/BPCM Recovery Module
AGS Removal Module
Adblue/SCR Removal Module
A2L/DAMOS Import Module
Soft REV Limiter Removal Module
The technical support is provided by the developers directly.
User comments Cackle