3
reasons
to choose our shop

Worlwide delivery
Worlwide delivery

1 year
warranty

11 years
on the market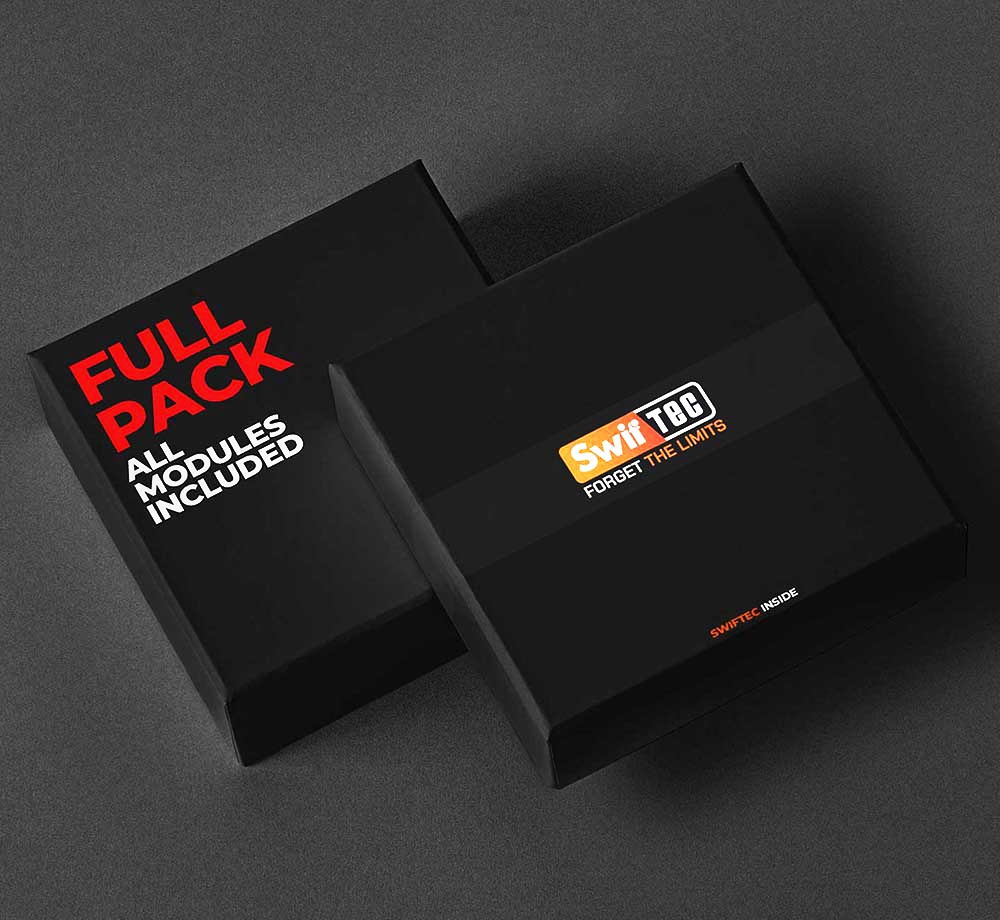 It is similar to burbles activation but with a different goal. Popcorn Activation module allows our customers to control the sound of rpm limiter, if the desire is to make it sound hard and popping. Swiftec makes it for you.
Obviously, to use this module, we recommend using it in cars equipped with a special exhaust pipe.
*IMPORTANT* - Available only for cars equipped with manual gearbox!
IMPORTANT - MODULE INCLUDED IN FULL PACK ONLY.
The Popcorn Activation Module only runs on supported firmware.
List of vehicles currently covered by Popcorn Activation Module:
Alfa Romeo
BOSCH EDC15C7
BOSCH EDC16C39
BOSCH EDC17C69
BMW
BOSCH EDC15C4
BOSCH EDC16C31
BOSCH EDC16C35
BOSCH EDC16CP35
BOSCH EDC17_C06
BOSCH EDC17_C41 *BETA
BOSCH EDC17_C50
BOSCH EDC17_C56
BOSCH EDC17_C76
BOSCH EDC17_CP02
BOSCH EDC17_CP09
BOSCH EDC17_CP45 *BETA
BOSCH EDC17_CP49
BOSCH MD1CP002
Cadillac
Chevrolet
FIAT
BOSCH EDC15C7
BOSCH EDC16C39
MARELLI MJD6
MARELLI MJ9
Force
Ford
BOSCH EDC17_C10
BOSCH EDC17C70
DELPHI DCM3.5
DELPHI MPC555
MARELLI MJD6
SIEMENS SID208
SIEMENS SID209
SIEMENS SID803
Gonow
Honda
BOSCH EDC15C7
BOSCH EDC16C31
BOSCH EDC17C72
Jeep
Land Rover
Landwind
Mahindra
Mercedes
Mercury Marine
Opel
BOSCH EDC16C9
BOSCH EDC16C39. BETA.
BOSCH EDC17_C18
BOSCH EDC17_C19
MARELLI MJD6
Renault
BOSCH EDC15C3
BOSCH EDC17_C84
PSA (CITROËN/PEUGEOT/DS)
BOSCH EDC15C2
BOSCH EDC16C0
BOSCH EDC16C3
BOSCH EDC16C34
BOSCH EDC17C60
DELPHI DCM3.5
SIEMENS SID803A
SIEMENS SID807
Saab
BOSCH EDC16C39
BOSCH EDC17_C19
Suzuki
Toyota
VAG (VW, AUDI, SKODA, SEAT, CUPRA)
BOSCH EDC15P
BOSCH EDC15V
BOSCH EDC15VM
BOSCH EDC16U1
BOSCH EDC16U31
BOSCH EDC16U34
BOSCH EDC16CP34
BOSCH EDC17_CP04
BOSCH EDC17_CP14
BOSCH EDC17_CP20
BOSCH EDC17_CP24
BOSCH EDC17_CP44
BOSCH EDC17_CP54
BOSCH EDC17_C46
BOSCH EDC17_C54
BOSCH EDC17C64
BOSCH EDC17C74
BOSCH EDC17_U01
BOSCH EDC17_U05
DELPHI DCM3.7
SIEMENS PCR2.1. BETA.
SIEMENS PPD1.2
Volvo