3
reasons
to choose our shop

Worlwide delivery
Worlwide delivery

1 year
warranty

11 years
on the market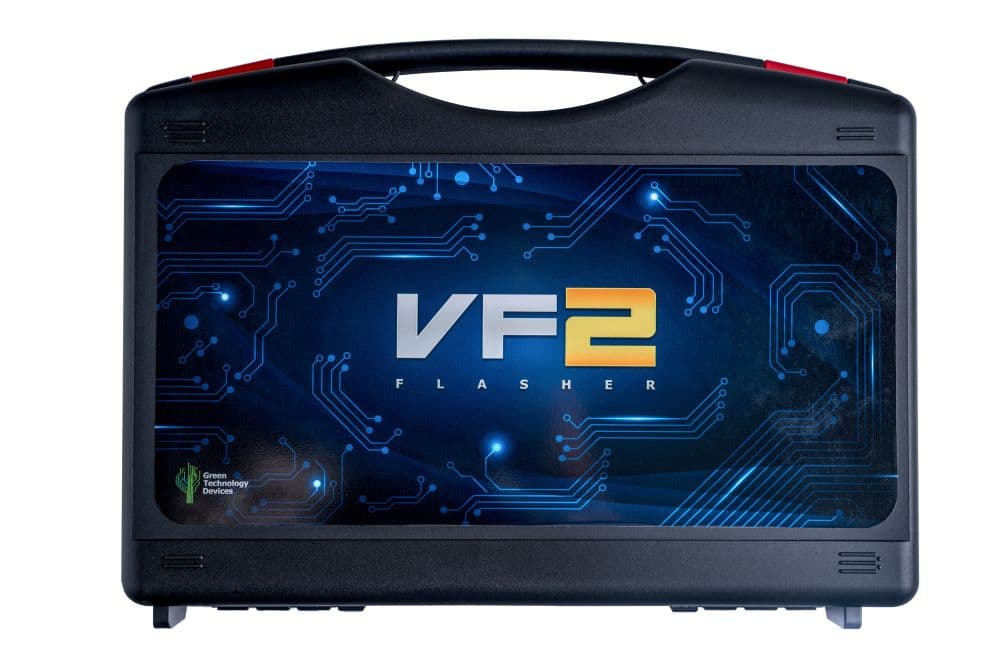 VF2 Flasher MASTER custom
Item no.:
41V3000
Contents of delivery
VF2 Flasher tool MASTER
Power adapter with EU cord
Set of flexible banana cables and blue boot pen
Regular IDC16
Multicolored IDC16
IDC16-IDC10 flat cable adapter
Set of 5 soldering BDM adapters
Set of soldering Toy1 and Toy2 adapters
VF2 Flasher OBD cable
USB cable type A to type B, 1m
ESD protective shielding bag
VF2 Flasher plastic protective foam padded case
GPT Cable for MEDC16 BENCH / MEDC17 BENCH
Basic equipment
VF2 Flasher MASTER custom —
2 526
$
+ Add
Status: Pre-order
VF2 Flasher is a professional tool for automotive workshops and chip tuners designed to diagnose, repair and reprogram engine and transmission control units of cars, trucks, special vehicles, boats and yachts, agricultural and many other vehicles. The tool supports operation in Boot Mode, Bench Mode, as well as through the OBD2 diagnostic connector and is made as a 7-inch tablet with a touch screen and built-in power supply with protection against improper connection and short circuits. This design allows you to work autonomously without the use of a PC, thus significantly reducing the risks of third-party drivers, operating system and other software interference in the programming process. VF2 Flasher has an innovative user interface with built-in instructions for connecting to the ECU. The device gets regular updates.
Licensing system
The tool comes in Master and SUB versions. The Master version is intended for independent work and allows you to read and write software files in the open format, as well as to unpack and pack files for SUB owners. Every master can have un unlimited number of SUB tools. The SUB (Slave) version is intended for building a dealer network and is capable of reading (S2M) and writing (M2S) files only in the crypted format. It is also possible to have the Custom Master version in Custom, when you can choose which protocols you want to use.
Support and Updates
Support and updates are available with the active subscription. The first year of subscription is included in the device price.
Please note: We are not permitted to sell this product to customers in South Korea.
Gallery (6)
User comments Cackle