3
reasons
to choose our shop

Worlwide delivery
Worlwide delivery

1 year
warranty

11 years
on the market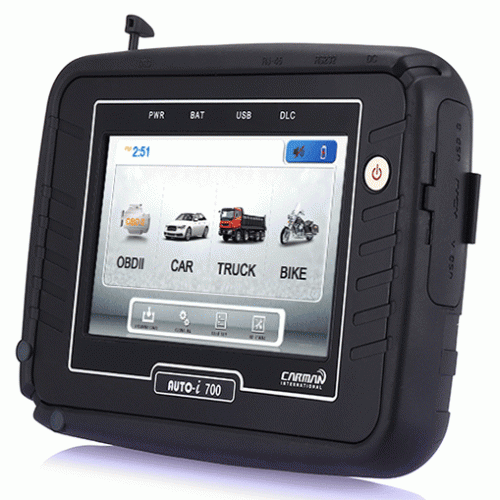 Carman Auto i-700
Item no.:
21C200
Contents of delivery
Main body with a Wi-Fi dongle
Rubber shroud
DLC cable OBD-II
Cigar plug power cable
Manual
CD with S/W
USB cable
Plastic Carring case
Basic equipment
Carman Auto i-700 —
2 350
$
+ Add
Status: Pre-order
Carman Auto i-700 is the world's best diagnostic scan tool for Japanese and Korean vehicles for aftermarket, the flagship of Korean scan tool by manufacturer CARMAN International with wide colour touch display, LED backlight and many advanced functions, including DTC reading and erasing, Current data view, Activations, Adaptations, Programming, Coding and sensor Calibrations. Works like stand alone handy tool, flexible, fast and regularly updated. Carman Auto i-700 is a modern and poweful scantool, based on dual core processor Cortex A8. It has robust body and one of the most user friendly menus fully navigated from touch pad. Absence of additional hard buttons on the front panel makes it easy to use and not sensitive to dirt and dust which are common in real workshop. That allows to extend tool's usage for many years.
Vehicle coverage
Asian: Toyota, Lexus, Honda, Nissan, Mitsubishi, Proton, Mazda, Subaru, Suzuki, Isuzu, Infiniti, Holden, Hyundai, Kia, GM-Daewoo, Ssang Yong, Daihatsu, Samsung, Chinese brands, Fuso, Hino, Isuzu, Hyundai, Kia Daewoo Bus and Trucks;
European: Benz, BMW, Audi, Volkswagen, Skoda, Seat, Porche, Saab, Ford, Opel, Renault, Citroen, Peugeot, Lada, Volvo, Dacia, Fiat, Alfa Romeo, Lancia;
USA: General Motors, Chrysler, Jeep, Ford
Systems
All vehicles electronic circuits and systems: ENG, ENG-2, BM/GM, EA, CCS, TCS, ISC, ESCM, IFI/ERE, ELR, EDS, ABS/ETS/ASR, AIRBAG/ETR (SRS), A/T, BAS, ADS, ASD, SPS, 4WD, RB, RST, A/C, IMMO, EPS, ECS, AHLS, AAC, FWDS, FFH, KCS and many more
Main Functions
DTC reading and explanation;
DTC erasing;
Live time Current Data (in digits and in graphic modes);
Manual data item grouping on display;
Actuation test;
Item graphic veiw;
Electrical scheme view;
Current data recording function;
System Identification (ECU number);
Adaptation function;
Sensor calibrations;
Injector and other items Coding;
Programming (immo, ecu, etc);
Service reset function;
Immobilizer reading;
OBD-I, OBD-II, EuroOBD, CAN communication support;
Additional functions
Desk PC communication;
Shot screen saving on PC through USB;
Shot screen printing through PC;
Internet & printer network access via WIFI (dongle included);
AC power.
Gallery (5)
User comments Cackle