3
reasons
to choose our shop

Worlwide delivery
Worlwide delivery

1 year
warranty

11 years
on the market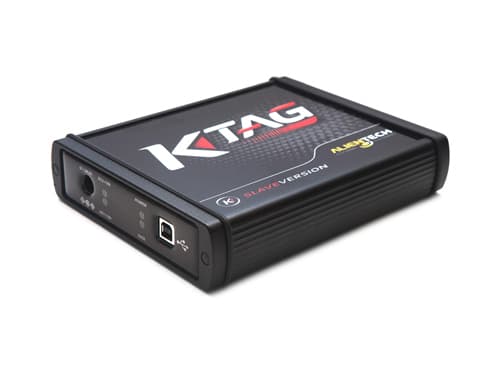 Alientech K-Tag Slave
Item no.:
11K1000
Contents of delivery
K-TAG Slave (Tool) 14KT00KTAM
Connection Basic Kit 144300KTST
Boards to be soldered: 14AS00T01S, 14AS00T03S, 14AS00T04S
Cables for MED17-EDC17 14P600KT02
Battery cable (crocodile clips) 144300K218
USB cable
Carrying case
14P600KT03 Infineon Tricore EDC GPT Connection Cable for Bosch EDC17 GPT ECUs
14P600KT06 Infineon Tricore MED GPT Connection Cable for Bosch MED17 GPT ECUs
Basic equipment
Alientech K-Tag Slave —
0
$
+ Add
Status: Off-sale
K-TAG Slave is a professional universal bench programmer for ECUs and TCUs of cars, motorcycles, trucks, agricultural machinery and boats.
K-TAG can communicate with all the ECUs, also of the last generation, through a direct connection to the micro. This tool will allow you to read and write the microprocessor of the control unit, the flash memory and the EEPROM. It's the best choice for the professional who wants to be the best.
K-TAG Slave solutions
are the best for those garages that want to quickly penetrate in the world of Chiptuning, offering to you customed files just for you. Thanks to your K-TAG you can write the files sent to you by your master right in the ECU, in a few minutes. You can select your Master from the network of our expert tuners, certified by our Academy program. Engine remapping safe and a reliable final result.
STRENGTHS
Complete access to the ECU EEPROM and micro;
Reading/Writing;
Automatic checksum correction;
Activation sorted by microprocessor;
ECU data cloning;
Update for new vehicles.
FEATURES
ECU files reading;
ECU files writing;
Single software manager: K-Suite;
Illustrated multilingual manual;
Non-mandatory subscription;
Backup and cloning available.
An important help is K-Suite, K-TAG software, that easily and step by step will lead you through all the stages: selection of the vehicle or of the ECU you want to work on, updates manuals for any single protocol, necessary cables and also implementations and developments to let your business grow exponentially:
DESIGN: Intuitive and totally renewed graphics — user experience improved. From the icon of the vehicles supported to the control dashboard, from the customized details to a software uniformed and easy to use.
OPERATING SPEED: The most common operations are instinctive and immediate. In a few steps you will be able to select the tool to be used and the vehicle, finding out which cables and accessories are required and access to the online shop directly.
FEATURES: The vehicles' list is always at hand, more complete and detailed. Thousands of notes and information. The search option in K-Suite is easier and quicker, one single spec is enough.
TOTALLY RENEWED TECHNICAL MANUALS: All the descriptions are clearer and easier, a complete and reliable guide to work in total safe. A zoom feature is available to help you during the most delicate steps of your work.
Gallery (11)
14KTSLPPRT
Item no.:
Full activation:
Motorola MPC5xx microprocessor
Nexus MPC5xxx microprocessor
Renesas SH705x microprocessor
Mitsubishi MH72xx/MH8xxx microprocessor
Infineon Tricore microprocessor
ST10Fxxx microprocessor
Motorola 68000HC microprocessor
Motorola HC12 microprocessor
Renesas M32 microprocessor
NEC 76F00xx microprocessor
Motorola MPC5xxx – Freescale SPC5xxxx microprocessor
Hide -
Show +
144300KTST
Item no.:
Connection Basic Kit: Replacement Kit with Boards and wire in the basic kit
Hide -
Show +
14P800ADB1
Item no.:
Positioning Frame Evo: Positioning Frame with upper illumination deck and 4 programming probes
14P800ADB2
Item no.:
Upper illumination deck: Upper illumination deck and programming probes
14P800ADB3
Item no.:
Programming probes kit: 4x Programming probes
Hide -
Show +
18C757KST1
Item no.:
Slave - 12 Months Subscription
The subscription will be active only till 3.04.2023
Hide -
Show +
User comments Cackle