3
reasons
to choose our shop

Worlwide delivery
Worlwide delivery

1 year
warranty

11 years
on the market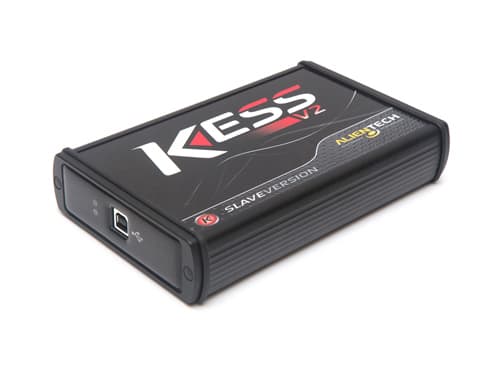 Alientech Kess v2 Slave
Item no.:
11K2000
Contents of delivery
KESSv2 Slave (Tool) 14P600KV01
Unversal Cable with 5 wires for non-standard OBD connection 144300K201
OBDII standard Cable for CAN/J1850/K-LINE lines 144300KCAN
USB cable
Carrying case
Basic equipment
Alientech Kess v2 Slave —
0
$
+ Add
Status: Off-sale
KESSv2 Slave is a ECU and TCU, the best tool to write back the original or modified file in the vehicle ECU in a few minutes, simply communicating through the OBD port. Through an OBD standard port, or a dedicated connector, KESSv2 can be connected to cars, motorbikes, trucks, tractors and boats to read and write the parameters of the engine or of the transmission. The goal is to maximise the performance of the vehicle and of the electronic control unit, facing problems that a standard diagnostics cannot solve.
KESSv2 Slave solutions are the best for those garages that want to quickly penetrate in the world of Chiptuning, offering to you personalized files just for you. Thanks to your KESSv2 you can write the files sent to you by your master right in the ECU, in a few minutes. You can select your Master from the network of our expert tuners, certified by our Academy program. Safe engine remapping and a reliable final result.
STRENGTHS:
Access to the ECU via OBD;
Compatibility with all Brands;
Automatic checksum correction;
Activation sorted by vehicle type;
Safe and supported programming;
Update for new vehicles;
FEATURES:
ECU files reading;
ECU files writing;
Single software manager: K-Suite;
Illustrated multilingual manual;
Reading and writing speed;
Non-mandatory subscription.
An important help is K-Suite, KESSv2 software, that easily and step by step will lead you through all the stages: selection of the vehicle or of the ECU you want to work on, updates manuals for any single protocol, necessary cables and also implementations and developments to let your business grow exponentially:
DESIGN: Intuitive and totally renewed graphics — user experience improved. From the icon of the vehicles supported to the control dashboard, from the customized details to a software uniformed and easy to use.
OPERATING SPEED: The most common operations are instinctive and immediate. In a few steps you will be able to select the tool to be used and the vehicle, finding out which cables and accessories are required and access to the online shop directly.
FEATURES: The vehicles' list is always at hand, more complete and detailed. Thousands of notes and information. The search option in K-Suite is easier and quicker, one single spec is enough.
TOTALLY RENEWED TECHNICAL MANUALS: All the descriptions are clearer and easier, a complete and reliable guide to work in total safe. A zoom feature is available to help you during the most delicate steps of your work.
Gallery (11)
18C7570008
Item no.:
Slave - 12 Months Subscription: Single Group Activation
The subscription will be active only till 3.04.2023
18C7570010
Item no.:
Slave - 12 Months Subscription: Multiple Group Activation
The subscription will be active only till 3.04.2023
18C757KSAL
Item no.:
Single Group. From the expiry day + 12 months from the renewal day
Hide -
Show +
149967TK01
Item no.:
11K2/49
KESSv2 - Offline Key: USB security key that enables you to temporarily work offline with KESSv2. Operation is limited to protocols that do not require specific operations on the server.
Hide -
Show +
User comments Cackle