3
reasons
to choose our shop

Worlwide delivery
Worlwide delivery

1 year
warranty

11 years
on the market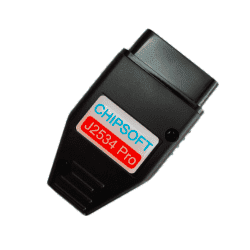 CHIPSOFT J2534 Pro is the most advanced adapter by CHIPSOFT. In comparison with CHIPSOFT J2534 Lite and CHIPSOFT J2534 Mid, it has a wider functionality for diagnostics as it has two multiplexers for CAN bus and K-Line commutation. Since it supports a great number of third-party software using the J2534 protocol, it is an essential tool for diagnostics and chip tuning. Its reasonalbe price allows you to start your own business with minimum costs. Several operational modes (J2534 device, K-Line adapter, CANHacker) significantly increase its functionality.
Technical characteristics of the CHIPSOFT J2534 Pro adapter​:
modern powerful 32-bit ARM processor 72 MHz;
work under the rule of the real-time operational system (RTOS);
support of the bus USB 2.0 Full-speed;
update of the adapter firmware via USB;
support of J2534 standard, partial support of J2534-2 standard;
protection from polarity reversal, static stress;
dual power to provide safe work (+5V USB socket, +12V/+24V OBD2 socket);
support of power 24V to work with trucks and buses;
set programming voltage 5 — 20V with the step 0.1 V onto pins 8, 9, 11, 12, 13 of the OBD2 socket, maximum current is equal to 20 mA;
support of Single wire CAN bus (SW CAN) ● support of the second CAN BUS on pins 3 — 11, 12-13, 1-9, 3-8 of the OBD2 socket;
support of the additional KLine BUS on pins 3, 8, 9, 11, 12, 13, 15;
indication of the operating mode via 3 LEDs;
qualitative MiniUSB socket (AMP producer) to connect to the computer;
OBD2 case;
support of the operational systems Windows Vista, 7, 8, 10, both 32-bit and 64-bit.
Support of the following protocols:
ISO 11898 (raw CAN) up to 1Mb/s;
ISO 15765-4 (CAN);
ISO 14230-4 (Keyword Protocol 2000);
ISO 9141-2;
GM UART;
SW CAN.
The adapter is a universal device able to work in various modes:
J2534 compatible device;
K-Line adapter;
CANHacker.
The adapter supports the protocol ISO22900 and works with Tech2Win. Initially the device works as a J2534 compatible device.
User comments Cackle